---
Jeff Hayes
Top Notch Home Inspection's Owner, Jeff Hayes, was born and raised in the Portland-metro area. He has deep roots in the construction and real estate industries, and in the community as a whole. With 25 years in the construction and real estate industries, Jeff is uniquely qualified to help buyers, investors and real estate agents to get the most out of a home inspection.
In 1994, Jeff helped launch K&D Hayes Construction. As part owner and manager, he developed and built approximately 75 homes. The construction experience gained in this role provided him unique expertise as a home inspector as his knowledge of real estate and construction goes (literally) from the ground up!
In 2007, Jeff began to transition out of his role with K&D and into the commercial industry. He began as a project manager and estimator with Payne Construction. This role allowed him to grow his skill set with increased connections in public works departments, and experience dealing with very large scopes of work and even overseeing a $5M project.
With changes in the real estate market, Jeff decided to make a big change too. In 2010, he became an Oregon Certified Home Inspector, and began Top Notch Home Inspection LLC. Over the past eight years, he has carefully added to the team, and has become one of the most respected home inspection companies in the Portland-metro area, and also stretching south of Salem and to the Oregon coast – and just in the last year, growing to inspect in Washington State as well. With a current staff of five, Top Notch Home Inspection LLC averages as many as 25 home inspections per week.
In 2018, Jeff and another team member, Kevin Halligan, both became certified Home Energy Score Assessors. This additional service allows the top Notch team to really address ANY portion of preparing a home for listing – right on through to any inspections a buyer might require.
In other exciting certification news, Jeff is now able to offer training classes on a variety of inspection and home-related topics for continuing education credits for realtors!
Jeff is proud to be an industry-leader, and to offer the highest quality, most comprehensive home inspections available on the market today.
Jeff is married with three daughters and one crazy golden retriever puppy – Drex, the newest member of the Top Notch team.
When he isn't busy providing realtor training, or booking and performing inspections, Jeff enjoys traveling, watching and tracking sports of all kinds, and all things water-related – from rafting to snorkeling to anything poolside – by the water is where he likes to be.
---
Kevin Halligan
An Inspector with Top Notch Home Inspection LLC since 2015, Kevin Halligan was born and raised in the San Francisco Bay area. But he's got some "Oregon" is his veins now – since studying at the University of Oregon and receiving a degree in Marketing.
Kevin has been a licensed home inspector since 2014, and is highly driven – continuing his education in the home inspection field far beyond what is mandatory over the years. He has attended community college classes focused on areas of real estate, construction, and is simply a student of the industry in general. He is committed to exemplary customer service, especially enjoying working with first time home buyers and helping educate them as they navigate the purchase process.
Along with inspection-related classes, Kevin has dabbled in some culinary arts classes recently. Additionally, Kevin enjoys swimming in his free-time. He is shockingly good at it – swimming two miles in a typical workout!
Remaining consistent with his drive to learn all there is about home inspection, Kevin became a Certified Home Energy Score Assessor last year. This is one more way that he can offer stellar and comprehensive service to customers. The positive feedback he receives from customers is a clear indicator of how successful his efforts have been!
---
Michael Holsapple
Just a year ago, Top Notch Home Inspection LLC added the expertise of native-Portlander Michael Holsapple to the team. Michael has five years of experience as a sewer inspector – but he will tell you his job is actually more about customer service.
Sewer lines are scary and can be expensive. I am able to walk through the sewer line inspection with clients, answer all their questions and be able to pint them in the right direction to get their problems resolved," Michael said. One of the aspects of his job that Michael enjoys most is getting to talk to all kinds of people each day, helping them navigate the largest purchase they'll ever make. Positive reviews and repeat requests for his services tell us he is doing something very right out there!
When he is not working, Michael enjoys his newest position as "Dad" to his brand new daughter Hazel, born to him and his fiancé Hannah in September. He is also a dog-lover and enjoys music – playing the piano, bass guitar and saxophone.
Michael's willingness to go up on roofs, into dirty crawlspaces, and wherever sewer lines take him, allows him to get each job done right for our customers! Top Notch is proud to offer this service, provided by such an expert!
---
Tim Jones
Top Notch Home Inspector LLC is excited to introduce our newest inspector, Tim Jones. Until moving to Oregon a year and half ago with his wife, two sons and dog – Tim lived his whole life in Hawaii. They are all loving Oregon!
With 17 years in the construction industry, Tim is a terrific asset to Top Notch. He is very driven to to do a great job for each customer. He likes to always inquire as to any specific concerns. In addition to performing the standard home inspection, Tim believes that taking this careful measure to address individual questions and areas of worry, is one way he can exceed expectations.
When Tim isn't working, he is enjoying his greatest accomplishment and responsibility – his family! They enjoy hiking, fishing and bike riding. They are really embracing the outdoors here in the Pacific Northwest after years on the beaches of Maui.
---
Jennifer Hayes
Jennifer Hayes coordinates the marketing and business development needs at Top Notch Home Inspection, as well as human resource issues. With an extensive administrative background from way back with an environmental and geotechnical company, and seven years in sales with a heavy construction equipment rental company, the leap to understanding home inspection and the importance of building relationships in this industry was an easy one. One of Jennifer's favorite aspects of this role is being a part of a small business, and helping it grow – of course the financial success of the company is vital, but also helping to find growth and development opportunities for the whole team. In addition, Jennifer loves that the Top Notch team is helping people find homes they will love and make memories in for years to come!
Born and raised in the Portland, Oregon area, Jennifer loves the Pacific Northwest. From the mountains and rivers, lakes and especially the coast, there is so much to see and do outdoors! And she has an equal love of the thriving city life – amazing food and entertainment abound in the Portland area!
Jennifer is proud to be married to Top Notch Home Inspection's owner – and enjoys being his sidekick through the challenges of being a small business owner. Together they enjoy traveling when they can – and lots of entertaining. Nothing makes her happier than days spent cooking up something new for Jeff and their three daughters, or other friends and family!
---
Welcome Rocky Hulbrock , Senior Inspector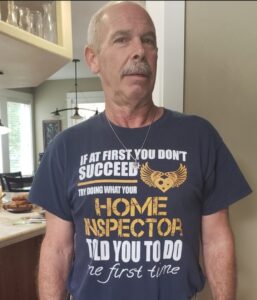 We would like to welcome a new team member to our family. Top Notch Home Inspection LLC is pleased to announce our newest team member, Rocky Hulbrock! With 20 years of inspection experience, a friendly and wise demeanor, and a great sense of humor… Rocky is in high demand with realtors already. He took a short break from inspecting and is now back at it full time. We are excited to add his experience to our already established and experienced company. Rocky is a veteran and in his free time, Rocky enjoys boating, fishing, and spending time with his sons! Help us welcome Rocky "The Rockman" and wish him all the best!